Work
Work Groups
Investing in Place believes in the power of organizing diverse, nimble, and outcome-driven working groups. We analyze, make recommendations, and advocate for policy change.  Previous work groups have included: the Los Angeles County Transportation Equity Technical Work Group, Completing the Streets Work Group, #JustGrowth Work Group. 
Currently our active work groups are:
The Better Buses for LA Work group, is an interdisciplinary collection of grassroots community leaders, members of the business community leaders, public agency staff, and grasstops policy experts coming together with the shared goal of increasing community understanding of and engagement on improving the region's bus system and is focused on championing implementation for bus only lanes in Los Angeles. We know how to improve bus service and a key part of it involves bus only lanes, queue jumpers, signal priority, or boarding islands, all door boarding,  all these types of infrastructure improvements are estimated to cut stop times and improve bus speeds by 20% or more.
Sign up here to receive meeting notifications and work group updates. 
See previous work group meeting materials:
Completing Streets Work Group
This group was active from 2016 – 2019 and meets sporadically when issues arise. 
Previous wins of this work group have included:
This work group has influenced allocations in the City of LA's $1.4 billion sidewalk repair program, $92 million street furniture program, and the City's first-ever comprehensive Complete Streets projects, totaling $80.1 million in safety and mobility improvements.
And 2018, through a collaborative efforts advocacy efforts led by Los Angeles Walks, Los Angeles County Bicycle Coalition, People for Mobility Justice, AARP in Los Angeles, and Investing in Place won a $37 million annual budget for the Vision Zero Program, a budget increase of over 1,100% in three years. Since the City launched Vision Zero launched in 2015. 
Previous events:
Transportation Equity Technical Work Group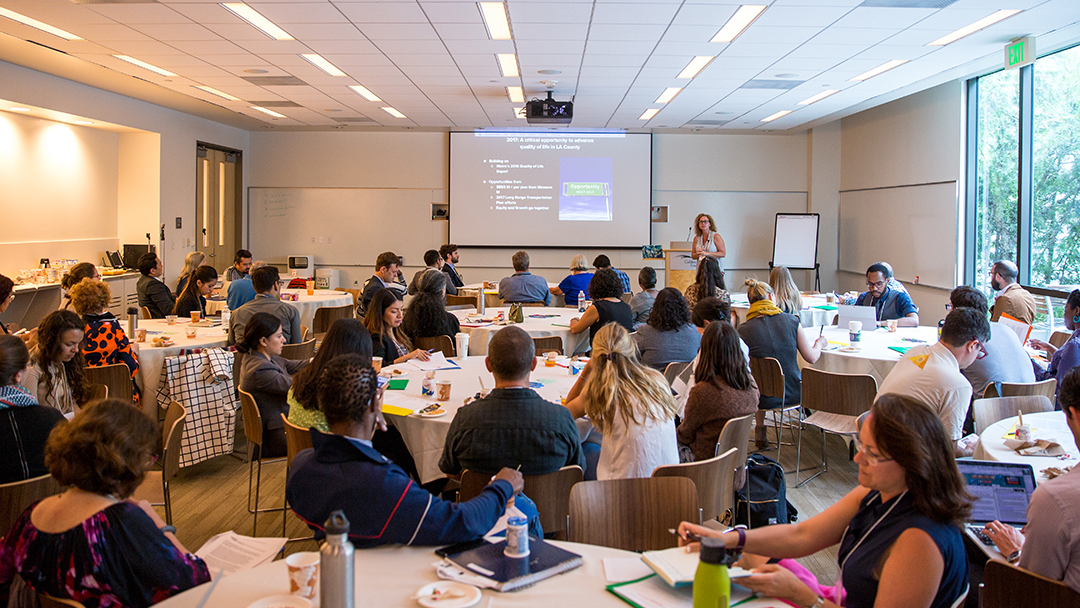 This work group was active from 2016 – 2019, but is currently on hiatus.
The purpose of this working group was to identify, analyze, and recommend equity indicators and suggest policy definitions for social equity in the region's long-range regional transportation plans. The working group built on efforts and insights from researchers, advocates, public agency staff, and develop user-friendly policy briefs and blog posts, to engage, seek feedback, and mobilize a broad range of stakeholders to advocate for a new data-driven and equity-centered approach to transportation planning and policy in Los Angeles County.
In 2016 this group published a policy paper: What We Measure Matters, which laid the groundwork for Metro's Equity Platform and Equity Focused Communities.
In 2019 Metro adopted its first-ever agency wide definition of "Equity Focused Communities"; this definition identifies two demographic factors that have historically been determinants of disinvestment and disenfranchisement: (1) race/ethnicity and (2) household income. Metro adds a third factor to the mix: households with low vehicle ownership. Using these 3 factors to create a map of high need neighborhoods and communities in Los Angeles County, Metro can now apply this definition to evaluate planning efforts and resource allocations.
#JustGrowth Work Group
This work group was active from 2016 – 2019 and is currently on hiatus.
"Just growth" — originated by Dr. Manuel Pastor of the University of Southern California and Dr. Chris Benner of University of California, Santa Cruz — is the theory that our region is stronger when every community benefits from public policy and transportation investments.
This work group focused on seeing that Measure M implementation and updates to Metro's Long Range Transportation Plan (LRTP) was an open and inclusive process that set clear metrics and investment priorities in collaboration with community voices. 
Previous events:
#JustGrowth webinar: 2019 Mobility Campaign – December 6, 2018
#JustGrowth: Measure M 2% ATP, Dedicated Bus Lanes, Update on Metro's Equity Platform – August 28, 2018
#JustGrowth: TOC, ATP, Equity – March 6, 2018 (webinar)
Work group meeting #7 – November 6, 2017
Work group meeting #6 – August 22, 2017 (Conference call)
Work group meeting #5 – July 18, 2017
Work group meeting #4 – May 18, 2017
Work group meeting #3 – April 20, 2017
Work group meeting #2 – March 16, 2017
Work group meeting #1 – February 16, 2017
Breakfast with Transportation Policymakers in Los Angeles County – January 30, 2017
#JustGrowth Forum – November 14, 2016